Listen to the Latest Podcast Episode
DO YOU WANT TO BE HIRED ONLINE DURING THE PANDEMIC?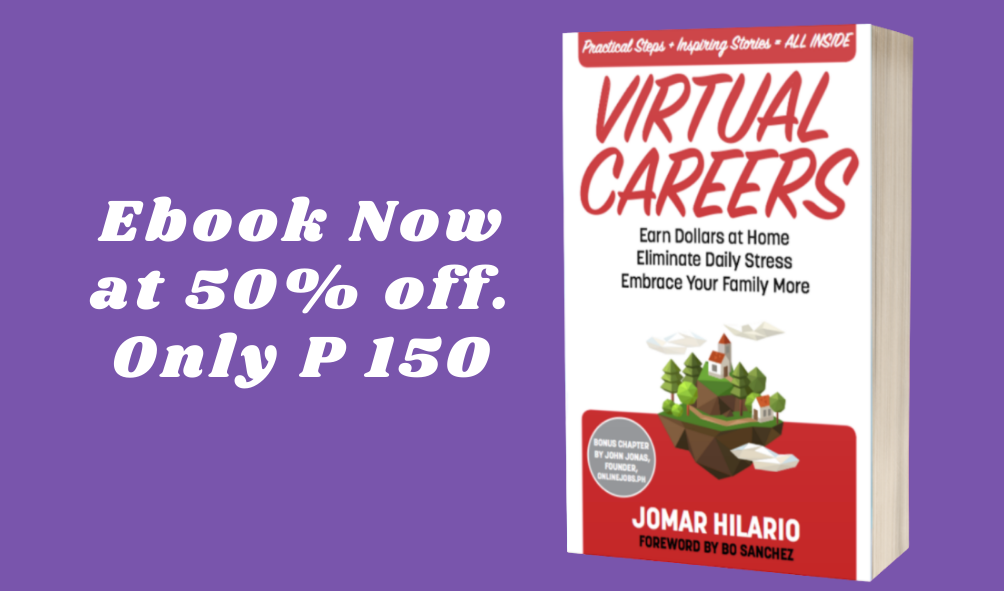 Get the Ebook for only P 150 (50% off). A lock down special.

Just had a client interview and she thinks my mentor is sooo good.
She was impressed and now she's my 4th client.Now celebrating my first month as full-time work at home woman.
Amazing!Thanks, Jomar Hilario!
Anna T.
Account Executive/Virtual Professional/Blogger
Dahil sa sobrang excited ko na matuto, I didn't wait na to go to the bookstore. I decided to purchase Mr. Jomar's e-book through the net.
I really want to learn how to be a Virtual Assistant.
Geejen M.
Registered Pharmacist
THANK YOU for the work that you are doing, teaching us, OFWs, to go back home and earn from home. I am currently working here in UAE and just finished reading the Virtual Career e-book. My target is sana by the end of August I will have my 1st gig as a Virtual Professional. I am planning to go home for good by 2018, so I got to move fast. :)Thank you Sir Jomar from the bottom of my heart!You give hope and real world lessons to us!
Jude - OFW from UAE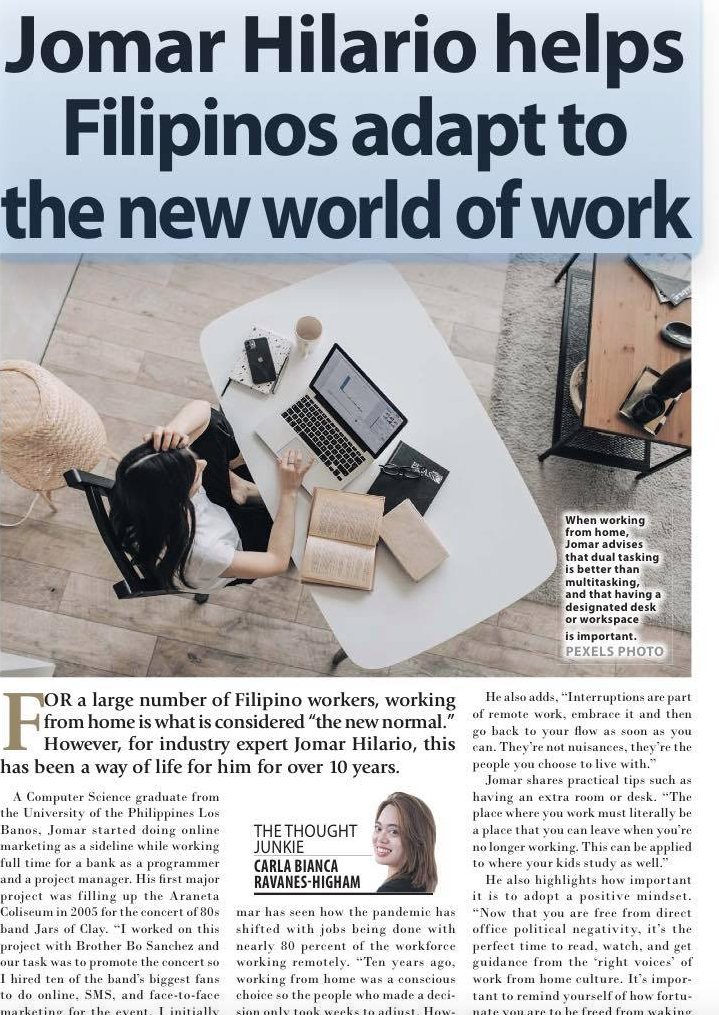 BANK PAYMENT INFO :

BPI Savings Account/ 3216-3898-62 / Jose Mario R Hilario
Super beginners who want to BOOST CONFIDENCE, GAIN SKILLS, GROW YOUR NETWORK and get JOB OFFERS.
TESTIMONIALS
😍 👉🏻 🧤 The course helped me a lot to see social media in a diferent way that I could not only express myself but make myself productive and earn depending on how my WHY drives me to be. It helped me appreciate fellow igmasterclassmates works that I am tagged and to strive to make good works. -Sheryl Culaban
😍 👉🏻 🧤 The course is so much fun, having fun while learning something new. I had known a lot of helpful apps, used them and I was wowed about the simple things, or posters that I posted from my circle of friends as well as those who I really don't know. I feel the boast of my self esteem and my confidence about myself increased. -Claudia Tabbada
😍 👉🏻 🧤 This course added my confidence to claim that I am truly an Instagram Master. -Ruth Germano
😍 👉🏻 🧤 This is very helpfulto any new ig marketers. It is not all about the numbers of your followers it is about real engagement. -claristine
😍 👉🏻 🧤 I feel "bitin". I want to learn more because it is so fun-filled and educational at the same time -Adelita
😍 👉🏻 🧤 The course is mix of play and profound study. With direct application of the tools you get to enjoy and have fun and get meet new like minded individuals online. What a great way to learn. -Elena
😍 👉🏻 🧤 I'm so happy and thankful. I was expecting this will run literally at 20 days. I was even asking myself if I'd be able to catch-up and really learn in 20 days...but I was wrong. The course run so smoothly according to how we the students catch-up the lessons. It's so worthy to enroll. And the knowledge I gained are more than what I paid for! -Sabrina Alfonso
😍 👉🏻 🧤 It actually felt like an emotional roller coaster ride.There are times you're happy, excited and elated to learn something new, that you can conquer the world, but there are times when you feel down because people are unfollowing or you have lesser impressions/insight results compared the week before. Well i just overcome this by having a positive mindset, that little growth is still growth.You need to always hustle and always be vigilant in your learning. -Leya
😍 👉🏻 🧤 I learned a lot from this lesson and it becomes a part of my daily routine. I learned that with only my phone and Ipad, I could possibly earn money to help my family. The lessons also makes me believe that I could be creative with the help of the apps that I did not know existed. -Cynthia Marie
😍 👉🏻 🧤 Felt the pressure whenever my batchmates would be able to deliver & this influenced me to do the same -Ponay
😍 👉🏻 🧤 Absolutely fun-tastic and AYOS-some! The 20 days is such an effective way to learn and becomean addict with instagram. Love it! -Estrelita
😍 👉🏻 🧤 It always trigger my High D & C personality🙃 -Anna Pineda
😍 👉🏻 🧤 this is very "insta" worthy, super fun and informative -Marie
😍 👉🏻 🧤 The course is useful and practical -Anna
JOIN BELOW TO PROMOTE JOMAR'S COURSES AND EARN UP TO 30%!