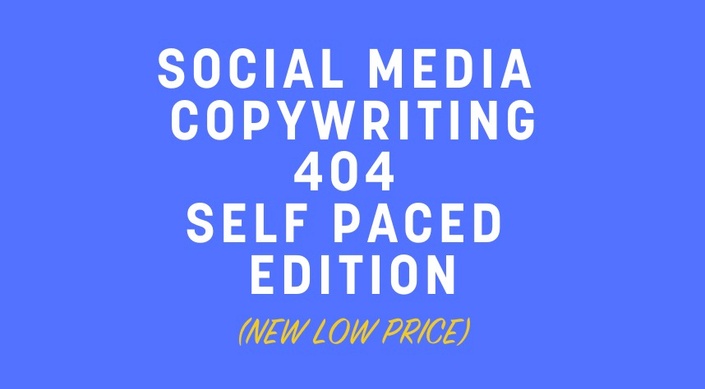 Social Media Copywriting 404
Learn New Skills That Will Survive AlI Trends: Social Media Copywriting
Enroll in Course
KNOW HOW MUCH YOU CAN EARN FROM A COPYWRITING VIRTUAL CAREER.
Watch the video and learn:
Why copywriting is one of the most valuable skills you need to have in the online world.

What are the steps to start a copywriting virtual career.


If You Can Do Copywriting

If Jomar can help you do this for an existing business (so you'll earn!).
Here it is....
What you have been waiting for...

You said you wanted to earn from an online job.

You said you want it now, no more waiting.

You said you want new skills and you're willing to put in the work.

You said - "Can I do it in my commute, this job?"

You said "Pwede ba LOW DEMANDING JOB?"

You said "Can I work with a Filipino first?

You said "Pwede ba trial?"

You said "Can I get my initial payment back --every month?"

You said "Pwede ba newbie jan ..pero earn agad?"

I said YES to all of the above.

YES

YES

YES

YES

YES

YES

YES

YES

YES

YES

The training that gives both confidence, skills and a job with a real Virtual Career Client who will pay you is HERE AND NOW.


Have you joined us?

YES?

GREAT!!

A wonderful and interesting future is ahead of you.

You will no longer wonder
"Kaya ko ba yan?"

"Kikita ba ako jan?"

"Totoo ba yan?"

"Is that for me?"

"Pwede ko bang linya-hin yan?"

"Facebook lang pwede na kumita monthly na walang binebenta?!"

"Smartphone lang, walang recruit recruit walang invite invite, walang produkuto, trabaho lang talaga, pwede ba yan para sa akin?"

BANK DEPOSIT

Now for those who said --NO...those who opted to HELP THE BANK EARN MORE MONEY FROM THE MONEY YOU KEEP IN THERE.

(You know you're losing money by keeping it in the bank right?)

Today's high 4+% inflation is decreasing the buying power of your deposits - everyday.

If you don't convert that cash into something YOU CAN USE - like a skill or oppurtunity to earn - NOW - you'll have LESS after 3 month.

Those who are in Copy303 they will start earning their 2nd month, 3rd month, 4th month, 5th month income.

For some of them, lets talk realistically, they will DISCOVER - "HEY this is not for me!"

And they will STOP wasting their time and look at other things like STOCKS. Or business. I can help with those too.

COURAGE

But for most, they will NOW have the COURAGE to get ANOTHER CLIENT.
Their bodies are going to say "HEY, WE HAVE A CLIENT NOW, LETS GET ANOTHER ONE!".

Their fingers are going to say "HEYY. Let's learn that other stuff that Jomar is talking about, after all, he's always first with new things!

Let's learn as much as we can -- so we can earn as much as we can!


GUARANTEE

I MEAN who's going to GUARANTEE you're going to get PAID when you're working for someone else you dont' know?
Me of course. Only me.

Those who are part of the COPY303 Internship - once they get hired by a client - and show that work has been done - will get a GUARANTEED PAY for their efforts. This is guaranteed by my company (reasonable Terms and Conditions are already mentioned in the contract you wil fill up. )


CONTRACT! ?
Nakakatakot naman Jomar!

You signed an employment contract when you started work and you didn't think it was a BIG DEAL.

Contracts are part of legal Virtual Professionals. Contracts protect everyone involved in the online job. You - the VA ,me as I'm mentoring you in this process.

Get used to it.

This is the same case. Remember, it's a job. Only online.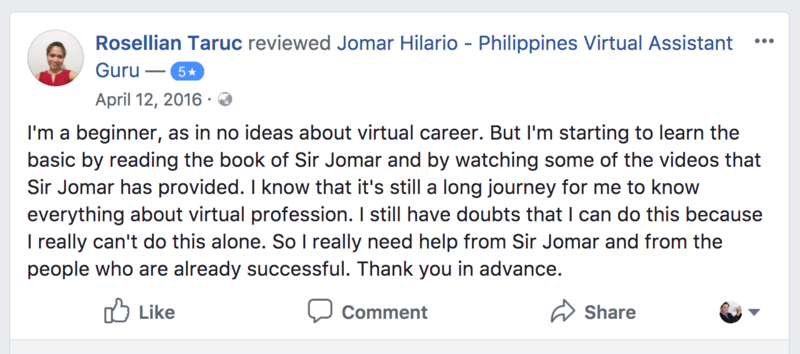 WELCOME TO OUR ONLINE WORLD!
What benefits will you get in this COPY303 Internship

Why is it called COPY303 anyway?

You'll learn Social Media Copywriting (COPY303).

Where's COPY101 and COPY202?

They're included as bonuses. Value: P 10,000 when purchased separately.

You'll gain confidence to use your smartphone to make social media posters using apps.

Posters! Not just posters. Videos too!

Posters and Videos? That's it?

No.

You'll learn the MAGIC of using the RIGHT WORDS to SELL using those posters and videos.

You're going to learn the correct CAPTIONS that goes with each social media post.

That's it?

Photos, videos and captions?

No.

Photos, videos and captions that SELL ONLINE FOR CLIENTS.

As you can see, it seems simple.

That's on purpose.

I want you to FEEL that its' simple.

But how many of your friends are GREAT at selling in social media using Posters, Videos and Captions?

How many?

All of them?

How many of them get PAID to do it - AT HOME, IN THE PARK,ON THE BUS..ANYWHERE?

I'm guessing very little.

You can be that person.

You can be the one people talk about in the news...

"She is earning with her kids..."

"She has time for her husband.."

"He has time for his wife..."

"He has time for his kids..."

Forget the news though.

You want YOUR FAMILY - YOUR CHILDREN, PAMANGKINS saying that.

That you gave them the best gift there is.

TIME. Focus and Attentive time.

And it all starts with Posters, Videos and Captions that Sell.

The CopyWriting303 Internship.

It's what you've been waiting for.

GRAB IT NOW.

Here's what our students our saying
I can do copywriting because the main task is just copying and we can learn and improve.
-Joyce Sadiarin, Copywriting 202 student
This event is very powerful, it does not only change my mindset but also touches my heart.
-Kleyr Dalisay, Copywriting 202 student
Kakatapos ko lang po panuorin at kopyahin lahat ng meron sa Copywriting 101 Webinar Replay at Live Event. Grabe po! Nakakainspire at nakakataas ng confidence.Mag sstart na po ako bukas ng pagsulat ng The Robert Collier Letter Book.Thank you po ng marami, Sir Jomar! You are so great and inspiring! God bless you always po.
You too can learn how to be a highly-paid copywriter - right at home.
Learn The 3 Secret Mindsets To Becoming A Highly-Paid Copywriter
Watch the video so that:

You will learn how you can effectively communicate with your audience even if your grammar sucks and your English is bad!

You will learn how you can become an instant authority figure and get the respect of your prospect clients.


You will learn the common mistakes committed by newbie copywriters so that you can avoid them and get ahead of other copywriters wannabees.
What you'll get from Social Media Copywriting 404:
You'll be enjoying Masterclass as a workshop - you'll learn HOW TO DO THE SKILLS in the room/webinar - plus the why and marketing psychology behind it all.

You'll get live a 4 hour monthly workshop.

You'll get a 2 hour monthly step by step webinar.

You'll get recordings for both (especially great if you're not in the live event/ofw).
I've put together a package that you will love.
You'll receive:
The Full Introduction Into How Virtual Careers Works, Objections, Potentials, Best Practices. (This is Valued at P 14,000, now yours free)
You Will Learn a New Skill That Will Survive Future AlI Trends: Social Media Copywriting
Bonus: You'll Also Receive The 14+ Hours CopyWriting 101 and Copywriting 202 Masterclass Training Videos (This is Valued at P 9,000, now yours free)
PREFERRED BANK DEPOSIT FOR ONLY
P 15,500 (Discount: P 475)
Then Fill up the details here:
http://virtualcareersbook.com/bank/

Frequently Asked Questions
When does the course start and finish?
The course starts now and never ends! It is a completely self-paced online course - you decide when you start and when you finish.
How long do I have access to the course?
How does lifetime access sound? After enrolling, you have unlimited access to this course for as long as you like - across any and all devices you own.
What if I am unhappy with the course?
We would never want you to be unhappy! If you are unsatisfied with your purchase, contact us in the first 30 days and we will give you a full refund.
Your Instructor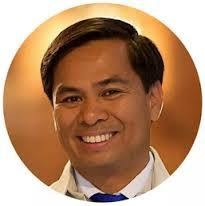 Author of Virtual Careers, the Book
Internet Marketing and Virtual Professional Training Guru of the Philippines.
#1 Virtual Professional Podcaster in the Philippines
#1 Longest Running Virtual Careers Webinar in the Philippines
Bo Sanchez' Internet Marketing Guru