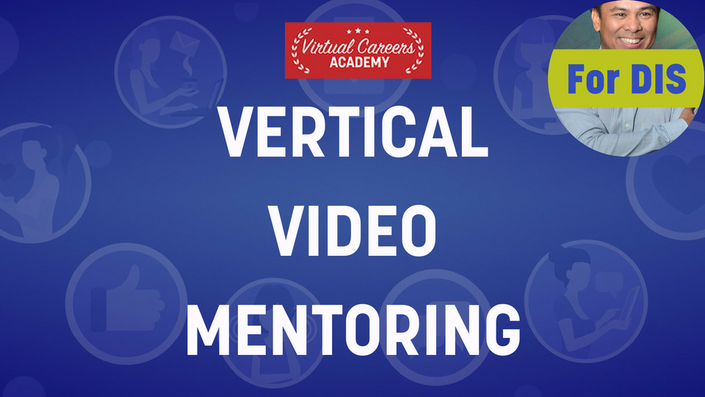 Vertical Video Mentoring
Vertical Video Mentoring Includes the P 9,000
FIND VA CLIENTS MENTORING COURSE, for free!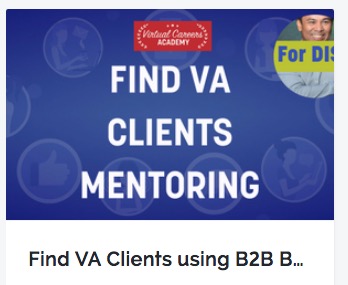 Not only will you learn a new skills (Video Editing) you'll also get to know potential clients who can hire you or refer you.
It's a double win. You get confidence dealing with online clients WHILE you are learning. You have the upper hand here.
You have the advantage. As you'll learn how to DEAL WITH ONLINE CLIENTS UP FRONT - even before you are ready to be hired. Unlike most VAs who only get to know clients - when they're nervous and looking for an online job. You- will be FRIENDS first with foreign clients. Why not? They can't hire you yet - you're still in training! This is a big secret to confidence - since you're NOT READY TO BE HIRED - your fear goes down (specially I GIVE YOU THE WORDS TO SAY and GUIDE YOU FOR 3 MONTHS in TALK and SERVING CLIENTS).

FIND VA CLIENTS MENTORING will give you the tools, the scripts and courage to contact clients using B2B (business to business) tools, words and systems. It's organized. And this will give YOU a new SKILL - B2B Business Development! Clients can hire you after this Mentoring program - just to do B2B - if they don't hire you to do Vertical Videos.
This is TRULY TWO SKILLS in ONE PROGRAM!
VERTICAL VIDEOS MENTORING + FIND VA CLIENTS MENTORING!

JOIN BELOW.


In a GOLDRUSH, if you find a GREAT VEIN of GOLD, you don't rush out to everyone and SHOUT "THERE'S GOLD IN HERE!" Of course not, you keep it to yourself for a while - while your group/team/family gets the gold.
In a GOLDRUSH, like in our situation here, we want to keep this WISDOM in your family for now.
Later, people will say it's OBVIOUS. But not now.
Since Vertical Videos are"new" - people have NOT thought through it yet.
It's the same story as the invention of UBER.
Take mobile phone, GPS, mobile internet- add them together and you'll get ..
A replacement for cars and taxis?
That's not automatic.
Someone had to put those things together, write a program -application -app -computer system - and test it out.
And it became RideHailing, Uber, Grab, Lyft, Waymo.
But at first, it wasn't obvious.
In the early days, I was staring at the long empty road at 4am wondering- I wish I can know when the bus would arrive.
Google maps came in the scene.
Mobile data came into the scene.
Wifi on buses came into the scene.
But still, you can't GRAB/Book/Ridehail A Provincial BUS.
You can only grab a car.
Right?
That's the same situation with Vertical videos now.
People have not THOUGHT it THROUGH yet.
Question.
How many of you know how Uber's "Rider to Driver matching formula" is?
No one?
Exactly.
It's kept in the family.
It's a secret, FOR NOW.
Just like the "coca -cola" formula -w/c is STILL a secret until TODAY.
Some secrets are WORTH keeping so you retain the ADVANTAGE.
And I want YOU (and your client) to HAVE that advantage.
That's why You're going to love this brand new COURSE I have designed for you:
MOBILE VIDEO EDITING,CREATION&DIRECTING ,also known as the "IGTV course" and the "VERTICAL VIDEO" course.
This is my latest "Tutok" course.
Bakit "Tutok"?
Just ask the COPY303 enrollees, they'll tell you that I check EVERYONE's work.
SO IS THIS ABOUT IGTV?
Here, you'll learn how to Create, Direct and Edit Vertical Videos.
IGTV is the latest app to have this.
But let's set the secret free…
This is NOT Just about IGTV…
This is NOT just about Vertical Videos…
This is..
THIS IS ALL ABOUT CREATING, EDITING and DIRECTING VERTICAL VIDEOS.

QUICK QUIZ:
WHICH FREE APP IS #1 - #3 in the Philippines Play Store this week and last week?

FB?
IG?
IGTV?
Note, IGTV is only #13.
Guess again!
The answer is…
Tiktok
The Chinese answer to Musical.ly is #1 in the Philippines.
TIKTOK is #1 FREE APP.
Today it's #3.
Just last week.
WHAT DOES THIS MEAN?
This means Vertical Video apps DOMINATE the APP STORES.
These apps all have Vertical Videos:
IG Stories
IGTV
Snapchat
Tiktok
This is why MOBILE VERTICAL VIDEO EDITING is going to be IN BIG DEMAND!
But not forever.
It's already in BIG DEMAND today and the demand is going to SHARPLY INCREASE, very soon.
You need to be PREPARED for this to RIDE THE BIG WAVE.
CREATE VERTICAL VIDEOS
Create: You need to learn to create them before you can edit them.
Does this mean you can be a VLOGGER?
Yes, if you want.
But the point is not to create for you -but for clients.
So you do not need to show your face here.
You're not going to selfie-video-talk or dance or sing (!!!!)
Pero if you want to SING, KANTA LANG!
The kinds of videos you'll learn to create are marketing, inspirational, informational.
Think : "15 Ways You Know You're A Filipino" kinds of videos.
Think : GaryVee Style Videos
Think: Bright Side Style Videos
GOOD WRITER??
Do you need to be a good writer? Not really.
You're making videos from
existing written material for this course.
ANIMATED VIDEOS?
You'll also learn how to make ANIMATED VIDEOS. Lots of them.
And use high-resolution great quality videos that you DID NOT SHOOT.
DIRECT VERTICAL VIDEOS
As a virtual professional under my training, you'll have to have something EXTRA that most video editors and makers already have.
They have editing skills.
What they don't have is access to the ideas around how to DIRECT your client to do EXCELLENT VERTICAL VIDEOS.
Why? Is vertical different from horizontal (traditional) videos?
YES THEY ARE.
In the course, you'll see and GET TO KNOW the people who are doing Smartphone based vertical videos. Who are they? They will be known only to those who join takers.
This is an idea that needs to be kept in the circle, for now.
EDIT VERTICAL VIDEOS
This is the most commmon perception of what you will learn.
But approach any video editing nerd and they'll say you need to use:
ADOBE PREMIERE and FINALCUT PRO…etc.
But we're NOT going there.
You will NOT be using those HARD TO USE SOFTWARE.
Instead we'll focus on a LOT of simple apps that run on your ANDROID
and IOS smartphones.
Yes, I didn't even use TABLET -just a smartphone.
Yes, yes you will also learn some DESKTOP VIDEO EDITING - but that's
optional and only for those who wish to learn it 100%.
So you'll be CREATOR, DIRECTOR & EDITOR for Vertical Videos.
Any one of the 3 will and can LAND you a good paying online job.
REQUIREMENTS:
Smartphone. Android and IOS. Willingness to invest a LITTLE BIT (for some apps).
Commitment to HAVE FUN and learn new skills.

SO WILL WE USE DESKTOP APPS?
Yes! When necessary.
But we'll STAY WAY from Expensive apps like ADOBE PREMIERE, FINAL CUT PRO, etc.
HOW MUCH ARE THESE GURUS FOR 7 DAYS OF MENTORING?

A guru (lets call him BB) just sent me an invite to 7 days in his new office in Portland, Oregon, USA.
There will be 20 of us and the fee - P 500,000 per person.

Now this BB is my mentor. :)
Been buying and doing his courses for more than 5 years I think.
Why is that?Because I know he knows something I don't.
That's why he's wildly successful.
He does and knows stuff I don't.
So I stay humble and follow him.
BB's rate is P 500,000.
How about JC's rate? (Another mentor of mine)

4 Days Immersive Mastermind at his Summer Home - $15,000 - that's P 750,000.
But Jomar, that's no fair. Those are live events. There's food, parking etc.
No not really. Think about this.
How much can you absorb in 4 days? 7 days? Not a lot.
How much can you absorb in 90 days? 3 months? Weekly mentoring?
A WHOLE LOT.
Plus given the chance to ASK questions, how many chances do you have in 4-7 days?
Not a lot of chances.
So believe me, you get MORE CLARITY in 90 days than 7 days.
So BELIEVE ME WHEN I SAY THAT ..
Engage ANY expert weekly for 3 months for only P 200,000 is really TOO LOW.
P 100,000 STILL LOW.
P 50,000 STILL LOW - that's just 555 Pesos day!
In the recent 3 month COPYWRITING 303 course, both Alistair and Arthur NOW have
MULTIPLE CLIENTS. :)Almost 10 people have internships already. Some of the clients have already PAID so we're now transferring the payment to the interns! YEY!!!
So let me tell you- that 3 Months mentoring for only P 15,000 is a steal right?
That's just the price of a midrange phone (my phone's cheaper than that).
Is your phone a HWAWEI or a ONEPLUS? It's worth more than that!
THE SKILLS & CONFIDENCE YOU LEARN WILL NEVER LEAVE YOU.
But your phone battery will die someday….


Q: What's new in the IGTV Vertical Video Course?
This is not simply a "Learn a new emerging skill" course. This is also
a "Let's Find Good Paying Clients" course. You'll be working in groups
and with my mentoring - you'll be building relationships with TOP
client, dream clients and impossibly unreachable clients - while you
learn.
It's all part of the fun, group work that's IGTV Vertical Video
Course-so while you learn, you can potentially get exposed to so many
new clients who will be wiling to HIRE you.
Q: IS IT GOOD FOR NEWBIES?
A: If you're a newbie who loves to use Facebook, the camera on the
phone and posting stuff online -then you're qualified! You will GET
confidence and learn a new skill - including the skill of "How to
Attract Clients To Yourself to Hire You!" - This is all part of this
brand new course?
Q: How about my Resume, Portfolio, the inteview?
A: All of that will be tackled and handled in the IGTV Vertical Video
Course-beecause as I said, you will be dealing with real clients -
EARLY ON in the course. The course is designed to make sure that your
RESUME is NO LONGER NEEDED and that you build your PORTFOLIO while
you're in the course. As for the interview, I've helped my graduates
of COPY303 handle that - and they now have intern jobs (the course is
not yet finished!)
Q: What if I'm bad at shooting videos?
A: That's cool, we all start BAD at first. Then we progress as we
learn more. If you're taking the IGTV Vertical Video Editor's Course
- you DO NOT need to shoot any videos. You will be editing client
videos and existing videos to make them better. :)
Q:If I want to be a VLOGGER, should I take your course?
A: If you want to be a Vertical Video / IGTV vlogger, OF COURSE! We
will not be tackling Hortizontal videos here.
Q: How do you monetize IGTV?
A: Simple, this is a gold rush, EVERYBODY wants to be a part of this.
If not IGTV - then the upcoming FACEBOOKTV - both of w/c are vertical
- your job is to be a SUPPLIER of skills. Just like the old Gold Rush
days, you supply the tools and skills to help the authors, gurus and
experts become GREAT LOOKING in IGTV
Q: Who else is helping you out in IGTV Vertical Video Course?
A: You'll be hearing from people who actually has a working IGTV
channel - there are only a HANDFUL now and it's good to be ONE OF THE
FIRST -after all, it's a GOLD RUSH, you need to be first.
Q: What if I wait to learn this NEXT YEAR?
A: Then you will have MORE competition?
Q: What if all I want is BASIC STUFF about Virtual Careers/Working at Homne?
A: Read my book Virtual Careers, then get the heavily discounted
Virtual Careers Video Workshop (80% off!)
Q: What makes your course IGTV Vertical Video different from other gurus?
A: Here's what one person said "I see that you are more tutok to your students…"
You have to really admit , nobody is more online, more available than me.
And I meant it. I sometimes sit around Facebook just wondering, wala
na bang TANONG? :)
That's why I can make Live Videos weekly for 4 years STRAIGHT -
sometimes 2–3 times a week.
That's commitment.
Go ahead do an internet search.
There are many gurus today -even in the Philippines.
Do you know how I know?
Because I MADE SURE I GAVE AWAY SECRETS 10 YEARS AGO.
I held nothing back.
Back then Youtube and Facebook were both DREAMS.
People were on dialup and internet was SLOW - I taught internet marketing.
And people learned.
Sure they may have heard of the ideas from others, who heard if from
others, who eventually heard it - taught- with passion- from me.
I seea long list of gurus today who were there in my events from 10 years ago.
Learn from the original or the others.
Your choice really.
Not everyone can learn from me.
Only those who like me and want to learn from me.
If you like them, GO WITH THEM. :)
If you like my brand of humor, go with me:)
Q: Jomar, how come some freelancer groups have 80,000 followers and
you only have 4,000?
A: I give the highest quality of training, passion and all my events
and courses are both cutting edge (meaning: nobody's done them before)
and well thought of (pinagisipan talaga-Mary Ann Delos Reyes).
Teaching and Tech - this is what I do for fun.
FOR FUN.
Now regarding numbers, I don't play in the PRIDE GAME of "my groups
numbers are higher than yours". It's the same game as MY FB page has a
Million Likes. I don't play the FB page game as well, why? Because I
follow Facebok and they simply devalued that number (the likes).
In Groups, the deal is relationships. Not numbers.
I like talking to my peeps and they like talking to me.
I like giving stuff away, and they like receiving it.
That's not measured by numbers.
If you want to talk numbers, how about this: 100% ROI. Been there ,
done that. You want to do that too? Listen and learn!
Your Instructor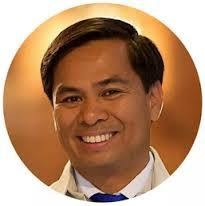 Author of Virtual Careers, the Book
Internet Marketing and Virtual Professional Training Guru of the Philippines.
#1 Virtual Professional Podcaster in the Philippines
#1 Longest Running Virtual Careers Webinar in the Philippines
Bo Sanchez' Internet Marketing Guru
Frequently Asked Questions
When does the course start and finish?
The course starts now and never ends! It is a completely self-paced online course - you decide when you start and when you finish.
How long do I have access to the course?
How does lifetime access sound? After enrolling, you have unlimited access to this course for as long as you like - across any and all devices you own.
What if I am unhappy with the course?
We would never want you to be unhappy! If you are unsatisfied with your purchase, contact us in the first 30 days and we will give you a full refund.